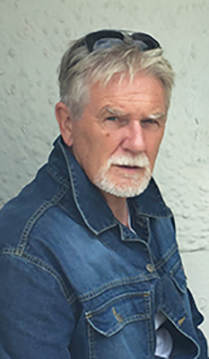 I realised very early on that art in some form or another would play an important part in my life. And it has.
Between 1968-1971, I studied graphic design at Ravensbourne College of Art & Design in Bromley and following a short period working for an advertising agency in London, an opportunity arose to join a newly formed graphic design consultancy in Cardiff. Four years later, I headed a graphic design centre at Cardiff University before I formed an independent design consultancy based in Cardiff.
Whilst running my own graphic design consultancy since 1980, I continued to have a strong passion to paint, but found little time to pursue this interest. However, a change in direction finally materialised about six years ago and since then, it has been exciting to be able to rekindle the enthusiasm I had for painting. This transformation has enabled me to be creative in a very different way. By using a very different medium – no computers just simply a canvas, paint, a collection of palette knives and brushes – I find the whole experience so refreshing and at the same time, so inspiring.
Having recently returned to my roots in West Wales, I am drawn to the breathtaking landscape and the beautiful coastline in this unique area of Wales. This has enabled me to recapture the need to paint again and I feel very privileged to share the 'passion' I have through my work.
Having exhibited in Art Galleries both in London and Cardiff, a selection of my work are currently on display at the Coast restaurant, just metres away from the lovely golden sands of Coppet Hall in Saundersfoot, the Grove Hotel, Narberth, the Beach House restaurant in Oxwich Bay and the Machynys Peninsula Golf Club and Premier Spa.
I look forward to exhibit new work at the Albany Gallery Summer Exhibition 2017.